Terms of Service
Latest updated Feb 5, 2021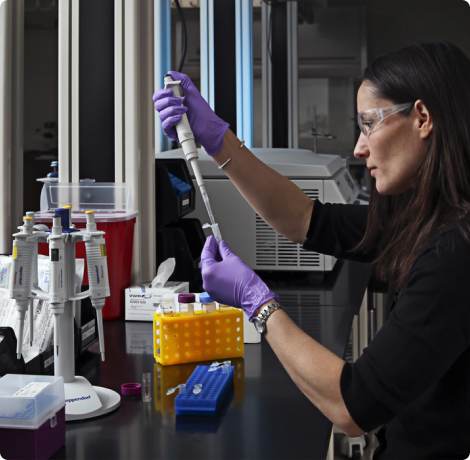 Thank you for registering to use Crosscope Inc.'s ("Company" or "we" or "our" or "us" or the like) web-based virtual microscopy platform (the "Service"). These Terms of Service (this "Agreement") govern your use of the Crosscope Digital Pathology service. Please read this Agreement carefully, as it (among other things) requires in Section 11 that you and the Company arbitrate certain claims instead of going to court and restricts class action claims.
Please press "Accept" if you agree to be legally bound by all terms and conditions herein. Your acceptance of this Agreement creates a legally binding contract between you and the Company. If you do not agree with any aspect of this Agreement, then do not press "Accept," in which case you may not use the Service.
Note for Children . The Service is intended for use by physicians and researchers. Use of the Service by anyone under the age of 18 is prohibited.
The Service 
 The Service is a digital pathology platform that allows physicians and researchers to collaboratively review and evaluate cases, share their expertise and learn from one another. The Service is not intended to replace professional medical advice, diagnosis or treatment.  You acknowledge that the Service is available for use by the general public, and the Company does not verify the stated identity, credentials or experience of any user of the Service, nor does the Company make any representation or warranty as to the accuracy or usefulness of any information made available on the Service from any user thereof.  Use of the Service is not a substitute for formal scientific education and training.  You are solely responsible for ensuring that your use of the Service does not constitute or result in a violation of any applicable laws, rules or regulations, including without limitation laws relating to the practice of medicine . 
The Company's Privacy Policy, at [www.crosscope.com/privacy.html] (the "Privacy Policy"), describes the collection, use and disclosure of data by the Company in connection with the Service.  The Privacy Policy, as may be updated by the Company from time to time in accordance with its terms, is hereby incorporated into this Agreement, and you hereby agree to the collection, use and disclose practices set forth therein.  User shall only transfer data and materials (including User Content) to the Service that qualify as De-Identified Data. For purposes of this Agreement, " De-Identified Data " means de-identified information (i) created in accordance with at least one of the de-identification specifications set forth in 45 C.F.R. § 164.514(b) and (ii) from which all personal identifiers have been removed such that there is no reasonable basis to believe nor is there any actual knowledge that such information can be used to identify an individual.
The Service is not intended to be used to store, share or transmit information any Protected Health Information "PHI"(as defined under the Health Insurance Portability and Accountability Act of 1996 ("HIPPA")), and you represent and warrant that you shall not submit, collect or use any "personal health information" as defined in 45 CFR §160.103 ("  PHI "), with or to the Service.
In the event that User transfers data or materials (including User Content) to the Service that do not qualify as De-Identified Data or that otherwise contain PHI (collectively, " Unauthorized Data "), (i) Crosscope shall have the right, but not the obligation, to delete any Unauthorized Data, (ii) Crosscope shall not be liable for any dissemination of Unauthorized Data to or by User or other users of the Service, and (iii) User shall indemnify and hold Crosscope harmless for any losses incurred by Crosscope as a result of User's transfer of Unauthorized Data to the Service. User acknowledges and agrees that Crosscope is not responsible for monitoring the Service for Unauthorized Data and that Crosscope shall have no liability under this Agreement for Unauthorized Data received from User, in each case notwithstanding anything to the contrary herein.
Third Party Platforms 
 The Service may include advertisements or other links that allow you to access web sites or other online services that are owned and operated by third parties.  You acknowledge and agree that the Company is not responsible and shall have no liability for the content of such third-party sites and services, products or services made available through them, or your use of or interaction with them.
User-generated content
The Service allows you and other users to upload, store and share image content and comments ("User-generated content") through the Service. You understand that all User-generated content is available only on an "as-available" basis and the Company does not guarantee that the availability of User-generated content will be uninterrupted or bug free.  The Service is not intended to be used as a primary database of medical images, and you should maintain your own back-up copies of all User-generated content that you submit to and store on the Service.  You agree you are responsible for all of your User-generated content and all activities that occur under your user account.  Some or all of your User-generated content may be removed at any time, for any reason or for no reason and without notice.  Without limiting the foregoing, your User-generated content may be removed if the Company determines (in its sole discretion) that its content is inappropriate, if it may include Protected Health Information or if it is the subject of flagging by other Service users. 
In connection with your User-generated content, you further agree that you will not use, create, provide or post: (i) material that is subject to third party intellectual property or proprietary rights, including privacy and publicity rights, unless you are the owner of such rights or have permission from their rightful owner to post the material and to grant the Company all of the license rights granted herein; (ii) material that is unlawful, defamatory, libelous, threatening, pornographic, harassing, hateful, racially or ethnically offensive or encourages conduct that would be considered a criminal offense, violate any law or is otherwise inappropriate; or (iii) advertisements or marketing content or solicitations of business, or any content of a commercial nature. The Company may investigate an allegation that any User-generated content does not conform this to Agreement and may determine in good faith and in its sole discretion whether to remove such User-generated content, which it reserves the right to do at any time.  
You hereby acknowledge that you may be exposed to User-generated content from other users that is inaccurate, offensive, obscene, indecent, or objectionable when using the Service, and further acknowledge that the Company does not control the User-generated content posted by Service users and does not have any obligation to monitor such content for any purpose. Under no circumstances will Crosscope become liable for any payment to you for any User-generated content or any other information that User provides, whether concerning the Service or otherwise. 
Ownership; Proprietary Rights 
 As between you and the Company, you own all worldwide right, title and interest, including all intellectual property and other proprietary rights, in and to Media that you submit to the Service, subject to the licenses granted to the Company herein.  As between you and the Company, the Company owns all worldwide right, title and interest, including all intellectual property and other proprietary rights, in and to the Service, the software and technology used by the Company to provide Service features and functionality and all usage and other data generated or collected in connection with the use thereof (the "Company Materials").  You agree not to reverse engineer, decompile, disassemble, license, distribute, copy, modify, publicly perform or display, transmit, publish, edit, adapt, create derivative works from, or otherwise make any unauthorized use of the Company Materials.
Prohibited Uses 
 As a condition of your use of the Service, you will not use the Service for any purpose that is unlawful or prohibited by this Agreement, or would cause a breach of any applicable agreements with third parties to which you are bound.  You may not use the Service in any manner that in our sole discretion could damage, disable, overburden, impair or interfere with any other party's use of the Service.  You may not obtain or attempt to obtain any materials or information through any means not intentionally made available through the Service.  In addition, you agree not to use false or misleading information in connection with your user account, and acknowledge that we reserve the right to disable any user account with a profile which we reasonably believe is false or misleading (including a profile that impersonates a third party).  By using the Service, you represent and warrant that: (i) you are not located in any country that is subject to a U.S. Government embargo, or that has been designated by the U.S. Government as a "terrorist-supporting" country; and (ii) you are not listed on any U.S. Government list of prohibited or restricted parties. 
Termination
You may terminate this Agreement at any time, for any reason or for no reason, by deleting your Service account through the Service user interface.  If you are for any reason unable to delete your account through the Service user interface, you may also send us a request for deletion of your account to info@crosscope.com.  Such requests will be honored within a reasonable time period after they have been received provided that you give us all reasonably necessary information and cooperation.  Certain data (including your Media) may continue to be stored in our backup systems until regularly scheduled deletions occur.  You agree that the Company, in its sole discretion and for any or no reason, may terminate this Agreement, your account or your use of the Service.  The Company may also in its sole discretion and at any time discontinue providing the Service, or any part thereof, with or without notice.  You agree that any termination of your use of the Service or any account you may have or portion thereof may be effected without prior notice, and you agree that the Company shall not be liable to you or any third-party for any such termination.  Sections 1, 3-5, 7-12 and 14 will survive any termination of this Agreement.
Disclaimers No Warranties
THE SERVICE AND ANY MEDIA, INFORMATION OR OTHER MATERIALS MADE AVAILABLE IN CONJUNCTION WITH OR THROUGH THE SERVICE ARE PROVIDED "AS IS" AND WITHOUT WARRANTIES OF ANY KIND EITHER EXPRESS OR IMPLIED.  TO THE FULLEST EXTENT PERMISSIBLE PURSUANT TO APPLICABLE LAW, THE COMPANY AND ITS LICENSORS, SERVICE PROVIDERS AND PARTNERS DISCLAIM ALL WARRANTIES, EXPRESS OR IMPLIED, INCLUDING, BUT NOT LIMITED TO, IMPLIED WARRANTIES OF MERCHANTABILITY, FITNESS FOR A PARTICULAR PURPOSE, AND NON-INFRINGEMENT OF PROPRIETARY RIGHTS.  THE COMPANY AND ITS LICENSORS, SERVICE PROVIDERS AND PARTNERS DO NOT WARRANT THAT THE FEATURES AND FUNCTIONALITY OF THE SERVICE WILL BE UNINTERRUPTED OR ERROR-FREE, THAT DEFECTS WILL BE CORRECTED, OR THAT THE SERVICE OR THE SERVERS THAT MAKE AVAILABLE THE FEATURES AND FUNCTIONALITY THEREOF ARE FREE OF VIRUSES OR OTHER HARMFUL COMPONENTS.  CERTAIN STATE LAWS DO NOT ALLOW LIMITATIONS ON IMPLIED WARRANTIES.  IF THESE LAWS APPLY TO YOU, SOME OR ALL OF THE FOREGOING DISCLAIMERS, EXCLUSIONS, OR LIMITATIONS MAY NOT APPLY TO YOU, AND YOU MIGHT HAVE ADDITIONAL RIGHTS.
Indemnification Hold Harmless
 You agree to indemnify and hold the Company and its affiliated companies, and each of their officers, directors and employees, harmless from any claims, losses, damages, liabilities, costs and expenses, including reasonable attorney's fees, (any of the foregoing, a "Claim") arising out of or relating to your use or misuse of the Service, violation of any applicable law, rule or regulation, breach of this Agreement or infringement, misappropriation or violation of the intellectual property or other rights of any other person or entity, provided that the foregoing does not obligate you to the extent the Claim arises out of the Company's willful misconduct or gross negligence.  The Company reserves the right, at your expense, to assume the exclusive defense and control of any matter for which you are required to indemnify us and you agree to cooperate with our defense of these claims.
Limitation of Liability and Damages 
 UNDER NO CIRCUMSTANCES, INCLUDING, BUT NOT LIMITED TO, NEGLIGENCE, SHALL THE COMPANY OR ITS CONTRACTORS, EMPLOYEES, OFFICERS, DIRECTORS AND AGENTS, OR THIRD PARTY LICENSORS, SERVICE PROVIDERS OR PARTNERS, BE LIABLE TO YOU FOR ANY SPECIAL, INDIRECT, INCIDENTAL, CONSEQUENTIAL, OR EXEMPLARY DAMAGES THAT RESULT FROM THE SERVICE, INCLUDING YOUR USE THEREOF, OR ANY OTHER INTERACTIONS WITH THE COMPANY, EVEN IF THE COMPANY OR A COMPANY REPRESENTATIVE HAS BEEN ADVISED OF THE POSSIBILITY OF SUCH DAMAGES.  IN NO EVENT SHALL THE TOTAL LIABILITY OF COMPANY OR ITS CONTRACTORS, EMPLOYEES, OFFICERS, DIRECTORS, AGENTS, LICENSORS, SERVICE PROVIDERS OR PARTNERS TO YOU FOR ALL DAMAGES, LOSSES, AND CAUSES OF ACTION ARISING OUT OF OR RELATING TO THIS AGREEMENT OR YOUR USE OF THE SERVICE EXCEED FIFTY U.S. DOLLARS.  APPLICABLE LAW MAY NOT ALLOW THE LIMITATION OR EXCLUSION OF LIABILITY OR INCIDENTAL OR CONSEQUENTIAL DAMAGES, SO THE ABOVE LIMITATION OR EXCLUSION MAY NOT APPLY TO YOU, IN WHICH CASE, THE COMPANY'S LIABILITY WILL BE LIMITED TO THE MAXIMUM EXTENT PERMITTED BY LAW. 
Arbitration
Agreement to Arbitrate. This Section 11 is referred to herein as the "Arbitration Agreement."  The parties that any and all controversies, claims, or disputes between you and Company arising out of, relating to, or resulting from this Agreement or the Service, shall be subject to binding arbitration pursuant to the terms and conditions of this Arbitration Agreement, and not any court action (other than a small claims court action to the extent the claim qualifies).  The Federal Arbitration Act governs the interpretation and enforcement of this Arbitration Agreement.
Class Action Waiver. THE PARTIES AGREE THAT EACH PARTY MAY BRING CLAIMS AGAINST THE OTHER ONLY ON AN INDIVIDUAL BASIS AND NOT AS A PLAINTIFF OR CLASS MEMBER IN ANY PURPORTED CLASS OR REPRESENTATIVE ACTION OR PROCEEDING. UNLESS BOTH PARTIES AGREE OTHERWISE, THE ARBITRATOR MAY NOT CONSOLIDATE OR JOIN MORE THAN ONE PERSON'S OR PARTY'S CLAIMS AND MAY NOT OTHERWISE PRESIDE OVER ANY FORM OF A CONSOLIDATED, REPRESENTATIVE, OR CLASS PROCEEDING. ALSO, THE ARBITRATOR MAY AWARD RELIEF (INCLUDING MONETARY, INJUNCTIVE, AND DECLARATORY RELIEF) ONLY IN FAVOR OF THE INDIVIDUAL PARTY SEEKING RELIEF AND ONLY TO THE EXTENT NECESSARY TO PROVIDE RELIEF NECESSITATED BY THAT PARTY'S INDIVIDUAL CLAIM(S).
Procedures. Arbitration will be conducted by a neutral arbitrator in accordance with the American Arbitration Association's ("AAA") rules and procedures (the "AAA Rules"), as modified by this Arbitration Agreement. If there is any inconsistency between the AAA Rules and this Arbitration Agreement, the terms of this Arbitration Agreement will control unless the arbitrator determines that the application of the inconsistent Arbitration Agreement terms would not result in a fundamentally fair arbitration. The arbitrator must also follow the provisions of this Agreement as a court would, including without limitation, the limitation of liability provisions in Section 10.  You may visit http://www.adr.org for information on the AAA and http://www.adr.org/fileacase for information on how to file a claim against the Company. 
Venue. The arbitration shall be held in the county in which you reside or at another mutually agreed location. If the value of the relief sought is $10,000 or less, you or Company may elect to have the arbitration conducted by telephone or based solely on written submissions, which election shall be binding on each party, but subject to the arbitrator's discretion to require an in-person hearing if the circumstances warrant. Attendance at any in-person hearing may be made by telephone by either or both parties unless the arbitrator requires otherwise.
Governing Law. The arbitrator will decide the substance of all claims in accordance with the laws of the state of California, without regard to its conflicts of laws rules, and will honor all claims of privilege recognized by law. The arbitrator shall not be bound by rulings in prior arbitrations involving different Service users, but is bound by rulings in prior arbitrations involving you to the extent required by applicable law.
Costs of Arbitration. Payment of all filing, administration, and arbitrator fees (collectively, the "Arbitration Fees") will be governed by the AAA's Rules.  Each party will be responsible for all other fees it incurs in connection with the arbitration, including without limitation, all attorney fees.
Confidentiality. All aspects of the arbitration proceeding, and any ruling, decision or award by the arbitrator, will be strictly confidential for the benefit of all parties.
Severability. If a court decides that any term or provision of this Arbitration Agreement other than Section 11.2 is invalid or unenforceable, the parties agree to replace such term or provision with a term or provision that is valid and enforceable and that comes closest to expressing the intention of the invalid or unenforceable term or provision, and this Arbitration Agreement shall be enforceable as so modified.  If a court decides that any of the provisions of Section 11.2 is invalid or unenforceable, then the entirety of this Arbitration Agreement shall be null and void. The remainder of this Agreement will continue to apply.
Claims
YOU AND THE COMPANY AGREE THAT ANY CAUSE OF ACTION ARISING OUT OF OR RELATED TO THIS AGREEMENT OR THE SERVICE MUST COMMENCE WITHIN ONE (1) YEAR AFTER THE CAUSE OF ACTION ACCRUES.  OTHERWISE, SUCH CAUSE OF ACTION IS PERMANENTLY BARRED.
Changes to Agreement 
The Company may make modifications, deletions and/or additions to this Agreement ("Changes") at any time.  Changes will be effective: (i) thirty (30) days after we provide notice of the Changes, whether such notice is provided through the Service user interface, is sent to the e-mail address associated with your account or otherwise; or (ii) when you opt-in or otherwise expressly agree to the Changes or a version of this Agreement incorporating the Changes, whichever comes first. 
Miscellaneous
 Under this Agreement, you consent to receive communications from the Company electronically.  This Agreement shall be governed by and construed in accordance with the laws of the State of California, without giving effect to any principles of conflicts of law.  You agree that any action at law or in equity arising out of or relating to this Agreement or the Service that is not subject to arbitration under Section 11 shall be filed only in the state or federal courts in California and you hereby consent and submit to the personal jurisdiction of such courts for the purposes of litigating any such action.  The failure of any party at any time to require performance of any provision of this Agreement shall in no manner affect such party's right at a later time to enforce the same.  A waiver of any breach of any provision of this Agreement shall not be construed as a continuing waiver of other breaches of the same or other provisions of this Agreement.  If any provision of this Agreement shall be unlawful, void, or for any reason unenforceable, then that provision shall be deemed severable from this Agreement and shall not affect the validity and enforceability of any remaining provisions.  This Agreement, and any rights and licenses granted hereunder, may not be transferred or assigned by you, but may be assigned by the Company without restriction.  This is the entire agreement between us relating to the subject matter herein and shall not be modified except in a writing, signed by both parties, or by a change to this Agreement made by the Company as set forth in Section 13 above.
Contact Information 
  The Service is provided by Crosscope, Inc.  If you have any questions, complaints or claims with respect to the Service, you may contact us at info@crosscope.com.