Privacy Policy
Latest updated Nov 25, 2020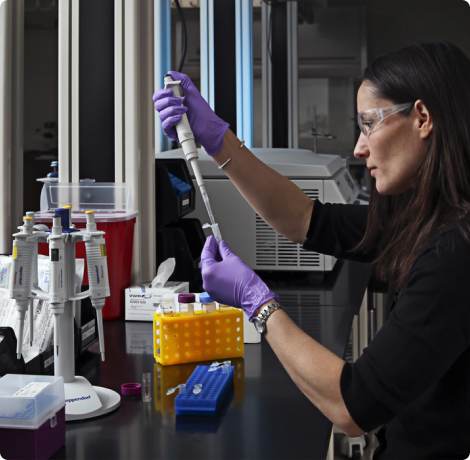 This Privacy Policy ("Policy") describes how Crosscope Inc. ("Crosscope," "we," "our," "us") collects, uses, and discloses certain personal information obtained through our website ("Site") and our web-based virtual microscopy platform (the "Platform"), which is located at https://crosscope.com. By visiting our Site or Platform and/or using the features made available to you on the Site or Platform, you are agreeing to the terms of this Policy.
This Policy applies only to information collected through the Site and Platform and therefore does not apply to data we collect in other contexts.
What information we collect and maintain about you
We collect personal and other information from you directly when you provide it to us through the website. Certain visitors to Crosscope's websites choose to interact with Crosscope in ways that require Crosscope to gather personally-identifying information. The amount and type of information that Crosscope gathers depends on the nature of the interaction. For example, when you register for the Site and the Platform, you will be asked to provide a username and email address along with other biographical and professional information. We also will collect other information that you choose to provide when you participate on our Platform, including images that you submit or comments that you make related to images. We may also automatically collect certain information about you and your computer, smartphone, or other device when you use, access, or interact with our Site.
Personal Information.
You can visit the Site without submitting any information that we can use to identify you personally. However, if you use certain features on the Site, such as registering for the Platform, or when you submit an application for a position with us or otherwise choose to provide personal information to us through the Site or Platform, you will be required to provide personal information. Such information could include, for example, your name, email address, phone number, or resume. Our online contact form also contains a "comments" field through which you may submit additional personal information.
Please note that the Site and the Platform are not intended to be to used to store, share or transmit any Protected Health Information (as defined under the Health Insurance Portability and Accountability Act) or other individually identifiable health information. This information shall not be provided, and is not appropriate for submission to this Site and Platform. You represent and warrant that any microscope images, annotations, comments or other media that you submit to the Platform shall not include any data, including without limitation a name or medical record number, that could be used to identify any particular patient.
Web log data.
When you use the Site, we automatically receive and record certain information from your computer (or other device) and your browser. This may include such data as your IP address and domain name, the pages you visit on the Site, the date and time of your visit, the files that you download, the URLs from the websites you visit before and after navigating to the Site, your software and hardware attributes (including device IDs), your general geographic location (e.g., your city, state, or metropolitan region), and certain cookie information (see below). To obtain such information, we may use web logs or applications that recognize your computer and gather information about its online activity. Crosscope's purpose in collecting non-personally identifying information is to better understand how Crosscope's visitors use its website. From time to time, Crosscope may release non-personally-identifying information in the aggregate, e.g., by publishing a report on trends in the usage of its website.
Cookies.
To enrich and perfect your online experience, Crosscope uses "Cookies", similar technologies and services provided by others to display personalized content, appropriate advertising and store your preferences on your computer. A cookie is a string of information that a website stores on a visitor's computer, and that the visitor's browser provides to the website each time the visitor returns. Crosscope uses cookies to help Crosscope identify and track visitors, their usage of https://crosscope.com, and their website access preferences. Crosscope visitors who do not wish to have cookies placed on their computers should set their browsers to refuse cookies before using Crosscope's websites, with the drawback that certain features of Crosscope's websites may not function properly without the aid of cookies. By continuing to navigate our website without changing your cookie settings, you hereby acknowledge and agree to Crosscope's use of cookies.
Web beacons.
The Site or the emails that you receive from Crosscope may use an application known as a "web beacon" (also known as a "clear gif" or "web bug"). A web beacon is an electronic file that usually consists of a single-pixel image. It can be embedded in a web page or in an email to transmit information, which could include personal information. For example, it can allow an email sender to determine whether a user has opened a particular email.
Third-party online tracking and behavioral advertising.
We also may partner with certain third parties to collect, analyze, and use some of the personal and other information described in this section. For example, we may allow third parties to set cookies or use web beacons on the Site or in email communications from us. This information may be used for a variety of purposes, including online interest-based advertising, as discussed below (see the section entitled "With whom we share your information").
How we use your information
Crosscope uses the information that we collect for a variety of purposes. These purposes include, for example:
To evaluate and improve our practices related to images and the overall provision of health care services related to these images;
To respond to your questions or requests concerning the Site or other services offered by us; to fulfill the terms of any agreement you have with us;
To fulfill your requests for our services or otherwise complete a transaction that you initiate;
To send you information about our services and other topics that are likely to be of interest to you, including newsletters, updates, or other communications, including promotional emails and advertising;
To deliver confirmations, account information, notifications, and similar operational communications;
To improve your user experience and the quality of our products and services;
To comply with legal and/or regulatory requirements; and
To manage our business.
In addition to the purposes above, we use the information that we collect automatically through the Site for such purposes as:
Counting and recognizing visitors to the Site;
Analyzing how visitors use the Site and various Site features;
Improving the Site and enhancing users' experiences with the Site;
Creating new products and services or improving our existing products and services;
Enabling additional website analytics and research concerning the Site;
Engaging in interest-based advertising (as described below); and
Managing our business.
Crosscope may link information gathered through the Site with information that we collect in other contexts. But in that event, we will handle the combined information in a manner consistent with this Policy.
Choice
You may opt out of receiving marketing emails from us by following the instructions in those emails or by emailing us at info@crosscope.co
How you can access or correct your information
If you want to learn more about the personal information that Crosscope has about you, or you would like to update or change that information, please contact us by email at info@crosscope.com.
External links
This Site may contain links to third-party websites. If you use these links, you will leave the Site. We have not reviewed these third-party sites and do not control and are not responsible for any of these sites, their content, or their privacy policy. Thus, we do not endorse or make any representations about them, or any information, software, or other products or materials found there, or any results that may be obtained from using them. If you decide to access any of the third-party sites listed on our website, you do so at your own risk. Our Service may contain links to external sites that are not operated by us. If you click on a third-party link, you will be directed to that third party's site. We strongly advise you to review the Privacy Policy and terms and conditions of every site you visit. We have no control over, and assume no responsibility for the content, privacy policies or practices of any third-party sites, products or services.
Data Security
We employ physical, technical, and administrative procedures to safeguard the personal information we collect online. However, no website is 100% secure, and we cannot ensure or warrant the security of any information you transmit to the Site or to us, and you transmit such information at your own risk. While we strive to use commercially acceptable means to protect your Personal Information, we cannot guarantee its absolute security
International Users
The information that we collect through or in connection with the Site is transferred to and processed in the United States for the purposes described above. Crosscope also may subcontract the processing of your data to, or otherwise share your data with, affiliates or third parties in the United States or countries other than your country of residence. The data-protection laws in these countries may be different from, and less stringent than, those in your country of residence. By using the Site or by providing any personal or other information to us, you expressly consent to such transfer and processing.
Children
Content on this Site is directed at individuals over the age of 18 and is not directed at children under the age of 13. We do not knowingly collect personally identifiable information from children under the age of 13.
Changes to this Policy
Crosscope may change its Privacy Policy from time to time, and in Crosscope's sole discretion. Crosscope encourages visitors to frequently check this page for any changes to its Privacy Policy. Your continued use of this site after any change in this Privacy Policy will constitute your acceptance of such change. If we make a material change to the Policy that affects information you have provided to us previously, you will be provided with appropriate notice.
How to contact us
Should you have any questions or concerns about this Policy, you can contact us at info@crosscope.com.