crosscopedx
Next Generation Pathology
The Crosscope Platform offers a flexible, scalable, and all-inclusive open digital pathology solution that supports all leading image formats and provides access to the existing repository of pathology solutions. It integrates AI, AP-LIS, and third-party applications to provide pathologists with the ideal image viewer and management capabilities for more accurate diagnosis and clinical use.
Crosscope Dx
Transforming Digital Pathology with Explainable AI
Crosscope Dx is a turnkey digital pathology imaging solution providing best in class whole slide image viewing experience with unprecedented speed and efficiency. Our intuitive and flexible platform optimizes laboratory workflows to reduce errors, support diagnosis and inform treatment decisions for anatomic pathology.
It is an intuitive software solution to streamline and accelerate the pathology lab processes by facilitating interoperability, storage, image management, and collaboration. Our AI based solution leverages cloud digital intelligence to integrate the available digital ecosystems and provide pathologist centric AI applications.
Key advantages
End-to-end digital pathology solution with advanced workflow features
Integrated and highly flexible workflow solutions
Open and scalable architecture
Designed by pathologists, for pathologists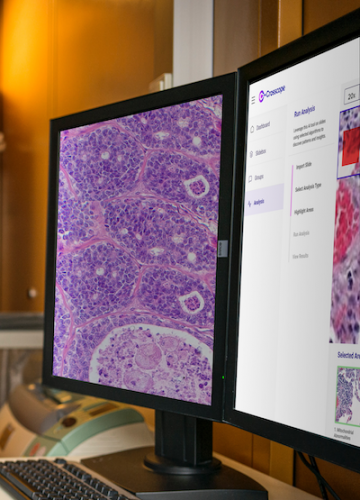 Drive Accuracy and Efficiency
Leverage Computational Pathology to simplify complex lab processes and labor-intensive pathology tasks, to speed up diagnosis with actionable insights.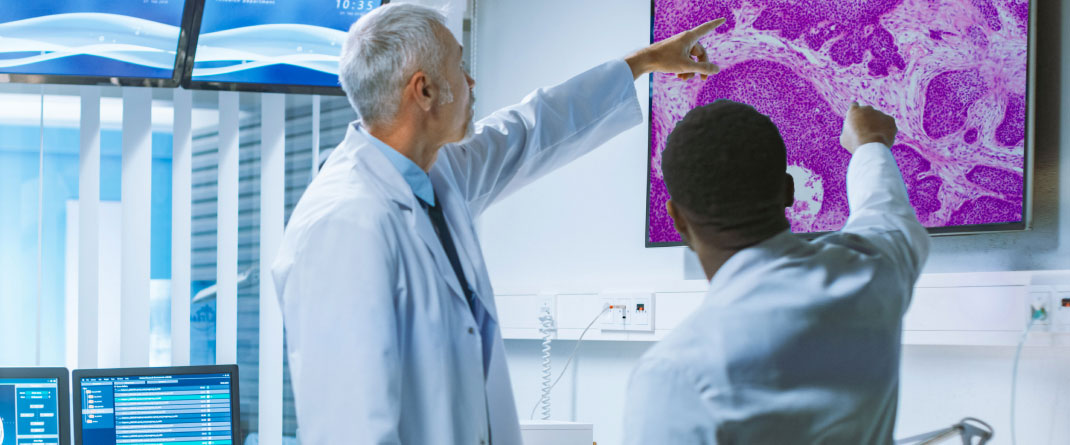 Deploying Crosscope in your lab
The Crosscope platform enables seamless integration with the existing laboratory solutions' repository, to augment and enhance the viewing and management capabilities. We leverage AI and deep learning to provide pathologist-centric solutions, that are flexible, scalable, and can be integrated with the existing digital ecosystems.
AI products and tools
Our AI-enabled solutions help pathologists make precise cancer diagnosis, improve patient outcomes, and make the diagnostic workflows more efficient. Unlock new insights and possibilities in cancer diagnosis and treatment with these AI-powered tools.
ORION AI
Improving digital image analysis is a major reason AI is being incorporated into digital pathology. Orion AI is transforming computational pathology by harnessing the power of explainable AI to empower pathologists for making accurate and faster decisions by building a diagnostic assistant.
Scope H&E AI
Automatic cell spotting and efficient detection and quantification of nuclei is important for cancer analysis, diagnosis, classification, and grading. Scope H&E AI calculates the morphometric features of each nucleus to accurately identify and quantify the nuclei in H&E stained slides.
Partner with Us
We collaborate with pathologists, researchers, and institutions to develop solutions that accelerate digital adoption and improve patient outcomes